Personal Training Services in London
I offer tailored personal training services across London although my core client base is in South West and West London.
A keen triathlete, through hard work, determination and the sheer love of it, I've literally transformed my body in the 5 years I've been competing.
Before this, I was your average gym goer with fluctuating fitness and weight levels depending on my work, personal and social commitments – with social commitments being the operative!
I demonstrate various proven training techniques, applying tailored personal fitness workout sessions to suit your body, goals and lifestyle commitments.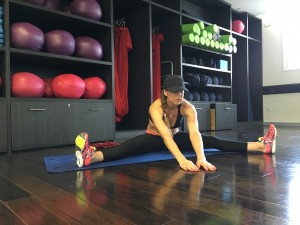 Many of my clients approach me having never worked out before, citing time constraints, work commitments and hectic family lives as barriers to an active lifestyle. As travel time is one of the biggest obstacles , I bring the gym and all the equipment to you at a time that suits you, whether outdoors, at your work or in your home. All you need to bring is your motivation and a sense of humour.
I have had the opportunity to build a small team of female personal trainers that are fun and loveable you can find out more about them HERE
I can also offer:
Individual training
Group training
Couple training
Training the whole family
As everyone has different preferences for training and thresholds, I carefully listen to what you'd feel most comfortable with and devise an enjoyable workout timetable that you'll look forward to.
When exercise becomes less of a 'chore', you see your fitness levels improve week by week and the work start to pay off, you'll naturally hit greater heights making long-term fitness goals achievable and sustainable in the long run. All this, while still having fun.
My core service include:
What can I offer you..?
Improve well being and fitness levels
Weight loss
Body sculpting
Core strength
Strength and conditioning to prevent injury
Reached a plateau in your current exercise plan
Improve you PB in endurance racing
Swim coaching
I use a certain degree of spontaneity, spark and imagination with each of my personal training sessions which, depending on your fitness levels, body health check and prior injuries, may include elements of:
Cardiovascular
Weight training
Kettlebell training
TRX training
Endurance training
My'personal' training  goal is to get you sustainably fit, happy and healthy, equipping you with skills to weave fitness and stamina into your life for good! Feel better, look better , eat healthy, laugh and rediscover your self and your body. You'll never look back and I look forward to helping you on your personal journey.
Find out if I offer personal training services in your London area.
I personalise each training workout for each of my clients – one size most definitely does not fit all. Please do contact me for an informal discussion to see how we can achieve your fitness goals at a pace and time that suits you! Let's get fit.
Competitive rates, discounts and packages available.